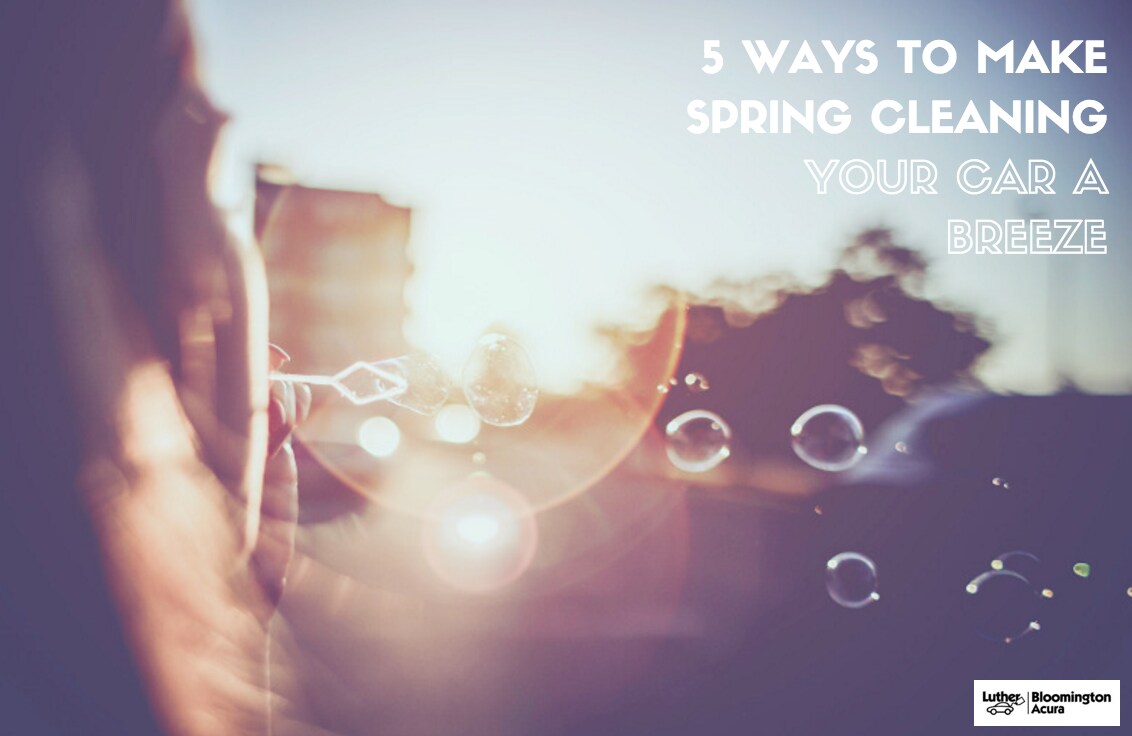 Spring is here! Is 'spring clean the car' on your to-do list? Here are a few helpful tips and tricks from the team at Luther Bloomington Acura dealership service center.
Interior
Remove dust.
Vacuum as you dust to make sure the dust gets removed from the vehicle and not just rearranged.
Be gentle.
If you are using a new cleaning technique or product, make sure it won't damage the interior of your vehicle. Try it in a small inconspicuous space first, then finish the rest of the vehicle.
Condition.
Protect the surfaces in your vehicle for sun damage with a conditioner. If you are looking for a chemical-free solution, try olive oil. Use a coffee filter and a little olive oil to condition leather and plastic surfaces.
Don't miss the tiny areas.
Use a toothbrush to get dirt and dust out of the nooks and crannies on the seating surfaces of your vehicle. If your vacuum cleaner has a small attachment nozzle, use that to clean out between the seats.
Exterior
It's a good idea to clean and wax the exterior of your vehicle after a long winter of harsh road conditions and salted roads. Take your vehicle to the nearest carwash station or get some materials together and do it yourself.
Use a sprinkler.
Don't forget to clean underneath your vehicle. Use an oscillating sprinkler to rinse off dirt and salt from your vehicle's undercarriage. Easy!
Service
Now that your vehicle looks like new, it's time to make sure it is running like new. Stop by the Luther Bloomington Acura dealership Accelerated Service center and our certified technicians will inspect your tires, batteries, air filters, fluids and more.
No appointment necessary! Accelerated Service takes 60 minutes or less.
Blog: 7 Reasons You Should Visit Our Service Center
---
Luther Bloomington Acura dealership proudly serves Minneapolis, Edina, Richfield, Brooklyn Park, Bloomington, Burnsville and the surrounding Minnesota area.
Browse our online inventory!
Stay up to date on dealership specials and inventory updates. Follow us on Social Media.
Facebook | Twitter | Instagram | Pinterest | Google+